Fiji Water Slams 'Fiji Water Girl' In In Its Countersuit Against The Model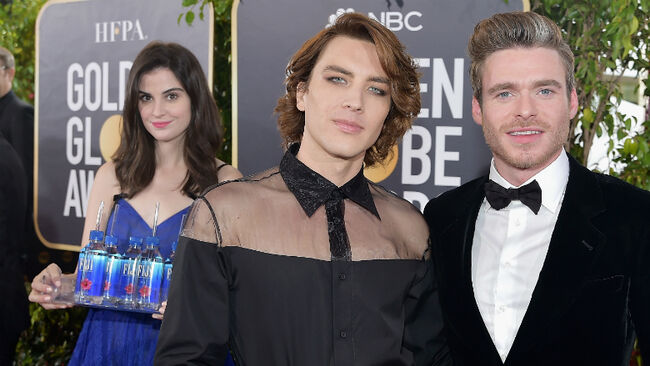 So, can we still call her Fiji Water Girl, or nah?
Fiji Water did not take too kindly to Fiji Water Girl suing them . After the viral sensation filed a suit against the brand that, in a sense, made her the Fiji Water Girl she is today, the water company fired back with a countersuit, slamming her for biting the hands that feeds her. "The irony is not lost on Fiji that Ms. Steinbach has now bitten the hand that feeds her by suing the very company that is entirely responsible for providing her the opportunity and the means to capitalize on her fleeting 15 minutes of internet fame," the water company said in its suit. #BURN
As fans know, model Kelleth Cuthbert, whose real name is Kelly Steinbach, but best known as the Fiji Water Girl, became an Internet sensation last month after serving major looks on the 2019 Golden Globes red carpet. While she was tasked with simply holding up a tray of Fiji Water bottles for parched celebs on the Golden Globes red carpet, the model managed to steal the spotlight from some of Hollywood's biggest stars with her oh-so-crafty photobombing on the red carpet. However, last week, Kelleth Cuthbert, filed a lawsuit against Fiji Water for using her likeness without her permission.
Kelleth appeared to initially enjoy all the benefits of being the most famous Fiji Water girl on the planet —gaining thousands of followers, getting interviewed by the biggest names in showbiz, and truly getting a career boost. However, she wasn't down with Fiji launching a marketing campaign that used cardboard cutouts of her face allegedly without her knowledge. In her lawsuit, she claimed the company asked her "to sign away her rights in the moniker 'Fiji Water Girl'" and authorize the use of her photo and likeness in the campaign, but she says she didn't agree to it, The Hollywood Reporter reports.
While she alleged she was "pressured" into recording a fake signing, intended to show her signing on as a Fiji Water Ambassador, she claimed she never signed any real documents that made her the company's ambassador or gave them permission to use her image without her permission. "The fake document Steinbach fake signed in the potential future promotional video was not an agreement," her attorney Kimberly Buffington wrote in the filed complaint. "The fake document was not signed by Fiji Water and was later destroyed by Steinbach."
Fiji Water not only denied Kelleth's claims, saying they had a valid deal with Kelleth to be a brand ambassador for $90k, they added that she is trying "extort close to half a million dollars from Fiji."
The company's spokesperson responded to the model's lawsuit last week, saying, "This lawsuit is frivolous and entirely without merit. After the Golden Globes social media moment, we negotiated a generous agreement with Ms. Cuthbert that she blatantly violated. We are confident that we will prevail in Court. Throughout our history, we have had a sterling reputation working with talent."
As for Fiji's recent countersuit, per Complex , Kelleth's lawyers released a statement addressing the water company's claims.
Kelleth's lawyer, Kecia Reynolds, at Pillsbury commented that the complaint filed by Fiji Water today is an obvious publicity stunt to counter revelations of Fiji Water's unlawful actions. However, Kelleth will not be bullied by Fiji Water, the Wonderful Company, or its billionaire owners. To be clear, Fiji Water has not 'feed' Kelleth. Fiji Water has never paid Kelleth and there was not an agreement, not an email agreement or fake document agreement. Fiji Water created cardboard cutouts of Kelleth to advertise and market their product. Fiji Water profited from using Kelleth's image without consent and she is legally entitled to damages and profits from the use of her image. Fiji Water's complaint is meritless and Kelleth is confident she will prevail in court. Suing Fiji Water was a last resort for Ms. Cuthbert who had hoped to discretely resolve this dispute. Fiji Water used her image without a contract, without consent and without paying her, all for Fiji Water's financial gain. Models make a living off the use of their image. No one would expect other professions to work for free. Fiji Water's cardboard cutout campaign used Ms. Cuthbert's image unlawfully and she just wants what is fair.
Photo: Getty Images

Jay Z
Want to know more about Jay Z? Get their official bio, social pages & articles on Wild 104 and KSAB!
Read more