Michelle Obama Reveals The Jokes She Couldn't Say As First Lady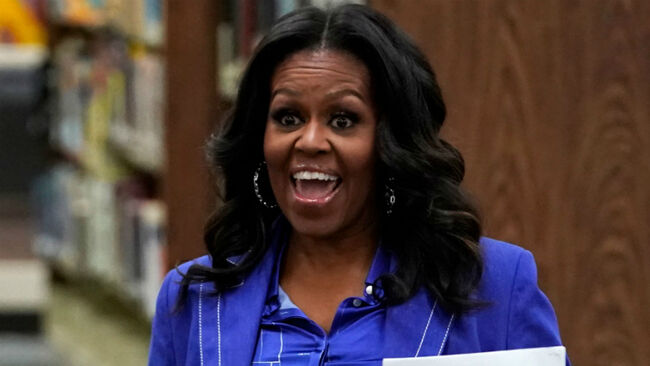 Michelle Obama is one funny lady.
The former first lady continued her late night/talk show circuit on Thursday (November 15) visiting none other than Jimmy Kimmel for Jimmy Kimmel Live.
During her appearance, which was in promotion of her recently released memoir Becoming, Michelle got a few things off her chest, well, jokes she couldn't exactly say while she was wife to the President of the United States. "As far as I'm concerned, you can cut loose and really say anything now, right?" Jimmy asked. "Yes?" Michelle hesitantly replied.
"I've got a series of cards here and if you're game for this, here are some things you can say now that you're [out of the White House]," Jimmy told the new author, before instructing her to look at the camera while she read each joke aloud.
"I've never eaten a vegetable," she said, which was a hilarious poke at Michelle who was known for tending the White House's vegetable garden, and for encouraging children to eat their veggies.
"I knew it, I knew it," Jimmy responded after Michelle read the joke.
"That's not true," she clarified.
The next joke took a stab at Michelle and her husband Barack Obama's multi-year Netflix deal. "The whole eight years we were in the White House, we used Laura Bush's Netflix password," she read. "Laura, sorry! Send me the bill."
After a few more hilarious and self-deprecating jokes, the final one really sent the audience into hysterics as Michelle read, "Clooney is my freebie." #DropsMic
To see the rest of Michelle's "Not Safe For The White House" jokes, click the video below.